Amanda Wright from Bedfordshire wrote:
"Marcus
A belated thank you for what I can only describe as an excellent show at
Ben's birthday party at the weekend.
The children all had a wonderful time, the atmosphere was lovely and the
magic was truly the icing on the cake. And 6 year olds are not an easy bunch
to please!
I am sure that you will be getting requests from mums for repeat
performances, judging by the reaction of the children.
good for you, well done!
with all best wishes,
Amanda"
---
Mrs. Walter from Cornwall wrote:
"Dear Mr. Eayres
I just wanted to write to thank you for all your hard work in entertaining the children at my daughter Jenni's wedding."
"They all thoroughly enjoyed your show, and their Mums and Dads too. It made for a lovely family wedding evening which is what Jenni and Jack wanted. I don't know how you manage though, so many different ages to entertain, but together with their own buffet I think it worked very well."
"Many comments came my way about the success of the evening, and they were mostly about the children's entertainer so I must pass on my thanks to you from my husband, Jenni and Jack too"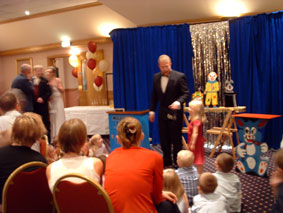 "Thank you again, you helped Jenni and Jack enjoy a very enjoyable evening and it can't be at all easy for you setting up in different venues, with buffets and disco's all adding to the problem and you had quite a way to travel I know. The children were dancing with their balloons for ages after your entertainment so they certainly enjoyed themselves.
Yours sincerely
Pat Walter."
---
From Mr. & Mrs. A. Gardiner, Surrey.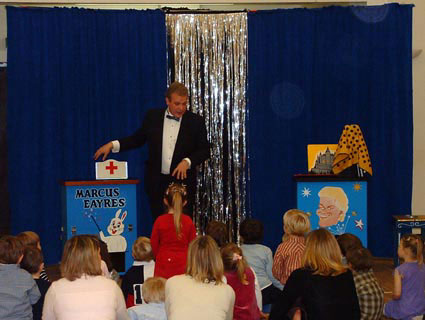 Marcus

Many thanks for the photographs and thank you very much indeed for the entertainment you provided for the kids on Saturday. Hat's off to you, as you clearly managed to capture the attention of 23 four year olds for approximately 60 mins, with your imagination and creativity, which is no mean feet.

Since Saturday, we have had a number of the parents calling up and telling us that their children really enjoyed themselves and I know that Holly had a great time and hasn't stopped talking about her participation.

Thanks once again, great job.

Alan Gardiner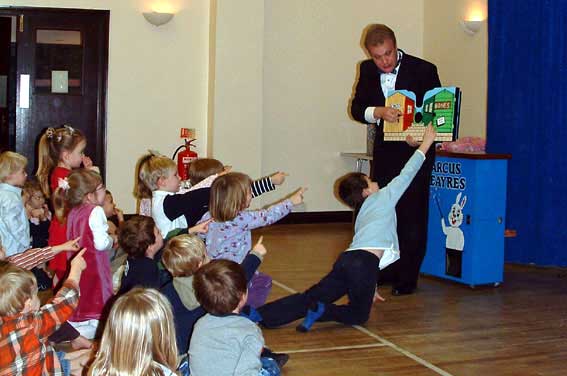 ---
Mrs. Bennett from Hertfordshire wrote:
"Could I just renew my Thanks for your performance today at my son's birthday party. I couldn't believe it when I kept popping my head round the door to see the adults laughing just as much as the kids!!!! Everybody said that you were brilliant and all thoroughly enjoyed themselves. It made Tommy's day all the more special and I thank you again for that.
We were all very impressed with your quick thinking – tellytubbie shaped balloons and Tommy's tiger were very good."
Bella
---
Mrs. Dickerson wrote:
Dear Marcus
I didn't catch you before you went on Sunday.
Just wanted to say thank you very much for an excellent show - Amber and her friends loved it.

Kind Regards

Charlotte
---
Mrs. Jones from Bedfordshire wrote:
Dear Marcus,
I am sorry that it has taken so long, but I just wanted to say a huge thank you on behalf of my father. You performed at his 65th birthday party at the end of November in Wilstead Bowls Club and went down a storm. Everyone is still talking about it, and your close up magic was a huge success. Thank you for the time and effort that you put in.
Someone has asked me for your contact details recently as a result of seeing you on that night, so I hope you get more work from that evening as well.
Thank you once again.
Mrs Alison Jones
---
For further information and booking enquiries please go to the Enquiries page
Or call 01604 677011 or e-mail to Magic@itsakindofmagic.com.